<<< 2019 май | 2018 май | 2017 ноябрь >>>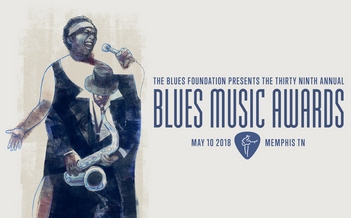 26.05.2018 17:39
Blues Music Award winners 2018
10 мая состоялась XXXIX церемония вручения премий Blues Music Award (бывшая W.C. Handy Award).
Complete list of Blues Music Award winners 2018:
Acoustic Album: Break the Chain - Doug MacLeod
Acoustic Artist: Taj Mahal
Album: TajMo - Taj Mahal & Keb' Mo'
B. King Entertainer: Taj Mahal
Band: Rick Estrin & the Nightcats
Best Emerging Artist Album: Southern Avenue - Southern Avenue
Contemporary Blues Album: TajMo - Taj Mahal & Keb' Mo'
Contemporary Blues Female Artist: Samantha Fish
Contemporary Blues Male Artist: Keb' Mo'
Historical: A Legend Never Dies, Essential Recordings 1976-1997 - Luther Allison (Ruf Recordings)
Instrumentalist-Vocalist: Beth Hart
Instrumentalist-Bass: Michael "Mudcat" Ward
Instrumentalist-Drums: Tony Braunagel
Instrumentalist-Guitar: Ronnie Earl
Instrumentalist-Harmonica: Jason Ricci
Instrumentalist-Horn: Trombone Shorty
Pinetop Perkins Piano Player (Instrumentalist - Piano): Victor Wainwright
Koko Taylor Award (Traditional Blues Female): Ruthie Foster
Rock Blues Album: We're All In This Together - Walter Trout
Rock Blues Artist: Mike Zito
Song: "The Blues Ain't Going Nowhere" written by Rick Estrin and performed by Rick Estrin
Soul Blues Album: Robert Cray & Hi Rhythm - Robert Cray & Hi Rhythm
Soul Blues Female Artist: Mavis Staples
Soul Blues Male Artist: Curtis Salgado
Traditional Blues Album: Right Place, Right Time - Mike Welch and Mike Ledbetter
Traditional Blues Male Artist: Rick Estrin
Blues.Ru
<<< 2019 май | 2018 май | 2017 ноябрь >>>
---
© blues.ru
При использовании материалов новостей ссылка на Blues.Ru обязательна!

---
Blues.Ru - Новости | Музыканты | Стили | CD Обзор | Концерты | Live Band | Форум